Bosch KTS Users Course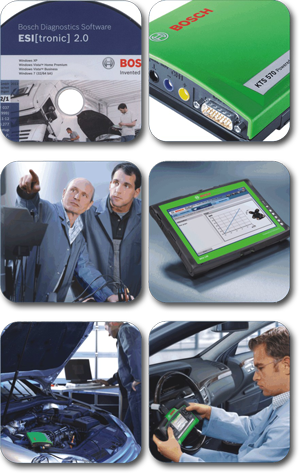 Course Details
These courses are specifically developed for technicians who are required to work on vehicle systems or components and are users of Bosch test equipment KTS 670, 570 or 540. Bosch test equipment is designed to be user friendly with operator assistance provided by on board help and reference menus.
This course is interactive and has a high practical content to focus on the attainment of the user skills required to access all functions of the equipment. The course is divided into linked modules and subject areas to cover the following topics:
Course Content
The equipment overview
Health and safety awareness
Operating controls: hardware functions
Operating controls: software functions
Practical user tasks
Accessories range
Multi-meter & scope overview
On completion of the course the trainee will be able to:
Operate the KTS controls and set up calibration procedures. Use ESI[tronic] information system to access technical data relevant to vehicle systems and diagnosis.
Carry out a diagnostic test routine following ESI[tronic] procedures for access of error memory, actual values and actuator test display modes using the test cables and accessories provided.
Measure typical signals using the onboard multi-meter & scope function, including the display and recording of these values.
Use the functions of ESI [tronic] Service Information System and the System Diagnosis programme linked by the Computer Aided Service system.
Who Should Attend
Anyone that needs to use a Bosch KTS670-570-540 diagnostic tester. Any new purchasers of the above tools automatically give one free place. Completion of course VSE 1 "Essential Test Procedures" is a recommended prerequisite to attending VSTD 30. Familiarity with essential computer skills and terminology is also a distinct advantage.
Accreditation
All Bosch Diagnostic Technician programme courses are co-certified by the Institute of the Motor Industry (IMI) QAA scheme.
Course Information
| | |
| --- | --- |
| Duration : | 1 Day (9am - 5pm) |
| Course Code : | VSTD 30 |
| NQF Level : | 2 |
| Price : | £160.00 + VAT |
Available Dates
No Dates Currently Available. Please call us on 01823 328604 for more information.