5 Day Advanced Auto Locksmith Training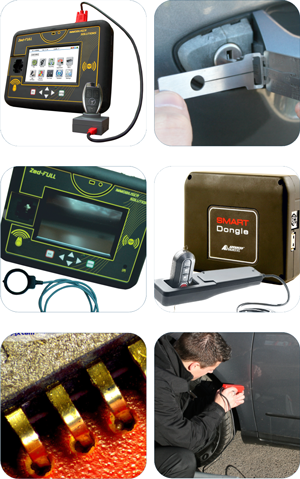 Course Details
An ideal course for those students who have completed the two-week Beginner to Intermediate Auto Locksmith Course and now wish to acquire detailed instruction on the popular but demanding systems from VAG, Mercedes, BMW, Fiat and Toyota/Lexus.
Key programming on these vehicles present complex issues and can leave many wary to attempt to tackle them. However, the financial rewards make them an excellent addition to your services.
This course will provide the detailed knowledge needed to successfully complete these types of jobs. The theory is delivered in the familiar format intermixed with plenty of hands on training opportunities on both components and live vehicles.
Course Content
Soldering Techniques:
Instruction in the techniques required to carry out everything from repairs to remote controls to removing and re-instating EEPROM and Processor Chips, along with methods of reading in-circuit by "pinning out" using a re-work station
VAG Vehicle Key Programming:
A detailed look at all the immobiliser systems that have been used on VAG vehicles since 1995 to current day, from System 1 to UDS plus:
Pin code reading via OBD and EEPROM
Key programming
Pre-coding of transponders
Remote programming and use of Key DIY for remote generation
Audi Smart Key Emulators
Cloning of keys using RW4 Plus M Box and Handy Baby Applications
Picking of HU66 and HU162 Locks Demonstrated
Mercedes and BMW Key Programming:
BMW EWS and CAS Key Programming using the latest techniques available from Zed-FULL, using both EEPROM Reading and OBD
Generate BMW EWS Keys with Key DIY and Generation and Cloning of CAS Slot Keys
Mercedes Key Generation from EIS Data for vehicles 1998-2015/16
Covering infra-red applications from Motorola and BGA Systems using Snoops, "pin out" in circuit reading and OBD
Picking and decoding of HU92 and HU64 Demonstrated
Fiat and Toyota/Lexus Key Programming:
A detailed look at all systems used by Fiat from Code 1 to Code 3 1995-2014
Cloning of transponders and Emulator generation
Pin code reading, pre-coding of transponders and remotes via EEPROM Reading and OBD
Transponder generation and writing direct to Bin File on Toyota Vehicles using Jadoogar Software and EEPROM reading and writing for 4C, 4D and Smart Key Systems
Cloning options from Handy Baby and Silca
Who Should Attend
This course is designed for students that have previously attended our 10 day Auto locksmith training and now want to expand their skills with more in-depth knowledge of some of the more demanding vehicle systems. This course is also suitable for existing Auto Locksmiths or diagnostic technicians that have a good general knowledge of key programming and want to improve their skills.
Accreditation
NCFE accredited level 4
Course Information
| | |
| --- | --- |
| Duration : | 5 Days (9am - 5pm) |
| Course Code : | IIQ 4094 |
| NQF Level : | 4 |
| Price : | £1250.00 + VAT |
Available Dates
No Dates Currently Available. Please call us on 01823 328604 for more information.
Book This Course
To book this course, please click the button below to be taken to our main webiste. From there, you can select all the courses you wish to book in one place and make the necessary payment. Once the booking is completed, we'll be in touch shortly with confirmation of your booking.